KLP®: Sustainable Recycled Plastic Solutions
KLP® Hybrid Polymer Sleepers:
High-quality ductile polymer, reinforced with steel. Strong, stable, sustainable, recyclable.
Since 1975 Lankhorst are actively producing innovative products from recycled raw materials. The company operates on a People-Planet-Profit principle:
• People: responsible business ethics
• Planet: sustainable & environmentally friendly
• Profit: durable & maintenance free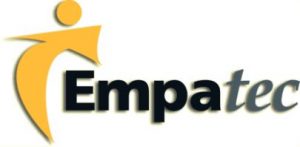 Lankhorst offer in-house production facilities to Empatec, a social enterprise that provides meaningful and gainful employment to people with learning and employment difficulties. In their workshop many standard recycled plastic products are customised by means of sawing, milling and assembling. These activities have now been integrated in their primary process.
KLP® recycled polymer products contribute to a more sustainable environment: made from recycled material they don't require chemical treatment, therefore do not leach any poisonous substances into the environment. Another major advantage is that KLP® can always be recycled again.

The raw materials that are used for the plastic recycling process come from defined sources such as recycled car bumpers, crates, agricultural foil, bottle caps etc. An advantage of these raw materials being sourced close by is that transport related CO
2
emissions are reduced to a minimum.
KLP® is the abbreviation of Kunststof (Polymer) Lankhorst Product; it is Lankhorst's brand name for products made from recycled polymers. Tested production methods ensure that KLP® delivers consistent and reliable quality. Products are checked and tested for bending strength, elasticity and strength. Importantly all KLP® products comply with ISO standards. This ensures that customers using KLP® Hybrid Polymer Sleepers can reply on low life cycle costs on these sustainable products.
Lankhorst's quality department is responsible for quality and process control. Well-trained quality coordinators ensure the right procedures, calibrated measuring equipment and effective work instructions are used. They continuously seek improved measuring procedures to guarantee a well-functioning product. These procedures take place at the very beginning of the process and involve all departments. Coordinators also monitor the efficiency and durability of the production processes. Furthermore the quality department registers and coordinates resolving of complaints. This way they are able to optimise their products and services.
ISO certifications in place on site:
• ISO 9001 – Quality Management
• ISO 14001 – Environmental Management
• OSHAS 18001 – Safety Management
Recycling and Recyclability
The materials Lankhorst uses for the Sleeper is a mixture of recycled polyolefin material (mainly polyethylene or PE). These materials solely consist of hydrocarbons and are environmentally speaking impeccable. They contain no softeners, chlorides, cadmium or other environmental harmful additives. The composition, quality and consistency of the materials are controlled by the highest standards. The only other material used in Lankhorst sleepers is recyclable steel re-bar
As the material is a mixture that contains mainly PE, the chemical resistance is equal to PE products. PE has an excellent resistance against diesel oil and grease. PE is receptive to UV radiation. In the case of the polymer sleeper the PE is coloured with a carbon black.The carbon black ensures a very good UV radiation protection. This protection ensures a lifetime of at least 50 years in outdoor conditions.
After the use of the sleeper the sleeper can be recycled 100%. The fastening system is removed, and the metal parts recycled. At a recycling plant the steel in the sleeper can be mechanically removed from the plastic. The steel can be recycled and the plastic can also be granulated and used again. Both the plastic and the steel can be sold on the recycling market. The value of the recovered material is dependent on the actual prices on the recycling market.